Arguably, African women in general are naturally endowed and quite curvy. There are quite a good number of actresses with stunning figures which wow their viewers and keep them glued to their television screen. Here are 12 queens of curves and booties in Nollywood.
#1. Joselyn Dumas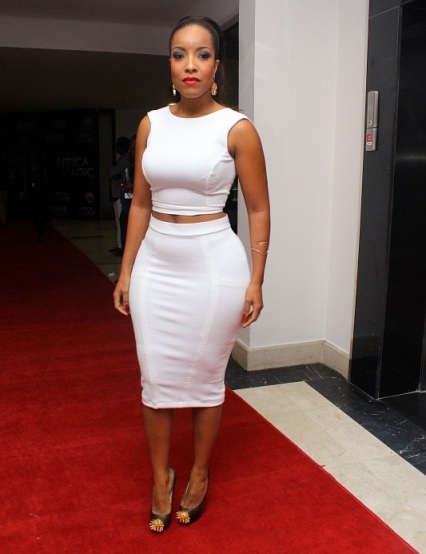 The obvious quality that sets Ms Dumas apart is her hips. It further became obvious to her Nigerian fans when she was featured in Lynxx's video 'FineF­ine Baby' where she sensually showcased her God given asset. Dumas is not just known for impeccable stature, she also has an impressive resume that ranges from being a TV personality, compeer, actress. She was picked as the 2012 face of the Range Rover Evoque in Ghana.
#2. Juliet Ibrahim
Juliet is a Ghananian actress of Lebanese and Liberian decent. Juliet is well endowed in both upper and lower regions. Juliet has a pronounced hips which always prove the saying that "hips don't lie" in anything she wears.
Juliet Ibrahim was recently quoted by City People Fashion & Lifestyle Magazines saying 'I describe my SHAPE as Coca Cola bottle'. She has also in the past stated that; she is far sexier and hotter than Kim Kardashian.
#3. Mercy Johnson
Everybody knows that its not hyperbolic to assert that Mercy Johnson has the best figure in Nollywood. She is well curvy and endowed in both the upper and lower regions. She has got nice sculptured hips. No wonder she plays sexy roles flawlessly. You remember her wet sexy role in "Corporate Maid"?
#4. Omotola Ekehinde Jolade
Omotola may not have it big in the upper region but she definitely gathers in the lower region. She has a very pronounced hips and backside which can make a monk have a rethink. No wonder the husband calls her Omosexy.
#5. Daniella Okeke
You are free to crown her the queen of curves or queen of buttocks. Daniella, a fast rising actress has a very protruding buttocks and nice hips which she doesn't hesitate to flaunt always making her fans go "gaga".
#6. Ebube Nwagbo
Ebube has one of the best figures in Nollywood. Her figure is almost perfect. She has got nice curves at the right places, nice hips with nice bosoms to complement it.
#7. Anita Joseph
Nita Jas she is fondly called parades an intimidating curves, nice rounded backside, nice hips and lovely looking bosoms. Anita loves to flaunt her dangerous curves.
#8. Empress Njamah

One thing you may not know is that it was Empress Njamah's backside that attracted her ex Timaya to her as he is a lover of women with big backside.
#9. Lydia Forson

Nigerians will never forget when this voluptuous screen diva starred in Kunle Afolayan's "Phone Swap". Lydia who once emerged as AMAA best actress is quite Curvy
#10. Biodun Okeowo

Another 'Yoruba' actress with an impressive booty is Biodun Okeowo Sofuyi. Widely referred to as Tolani Osinrin and Omo Butty,Biodun's booty remains one of the fascinating ones even after two kids! She tows the same path with Omotola and Mercy and has impressed several male fans and admirers with her massive booty. Aside obviously flaunting her booty and sultry looks on Instagram, a meeting with Biodun on a red carpet event would leave every man the envy of his peers and friends. Earning herself considerable movie roles and producing few, Biodun's booty goes down as seductively appealing.
#11. Tracy Ogbonna

Tracy Obonna is an Actress, Model, & MBA Graduate. She is well endowed and has big booty which she flaunts
#12. Toolz

Many are of the opinion that the brilliant TV presenter , Toolz, is the most curvy celebrity in Nigeria. No wonder, Don Jazzy has a crush on her.
Who do you think should be crowned the queen of CURVES among these curvy and well endowed beautiful African actresses?