Just like a match made in heaven to many, Jollof and Jerk chicken are inseparable.
Jerk chicken with a regular chicken tradition popular among the Caribbeans. A normal Rice meal in Jamaica will be Rice and peas with Jerk chicken. As we know by now, Nigerians like many other Africans like spicy meals, so having Jollof Rice with spicy Jerk chicken can't be negotiated.
After making your Nigerian Jollof Rice, You can grill some chicken thighs or chicken drum sticks in the oven with some hot spices. See how to make Jerk chicken here.
Here are some Jollof Rice and jerk chicken meals to inspire you:
#1.
Photo: Vdees Food Chronicles
#2.
Photo: Yelp
#3.
Photo:
#4.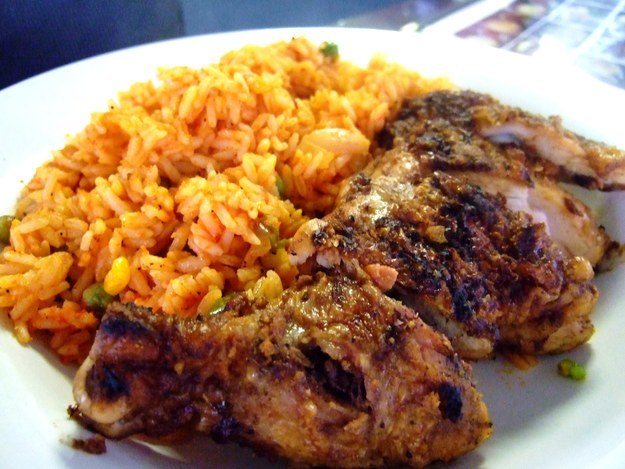 Photo: Pinterest
#5.
Photo: Pepper and Stew
#6.
Photo: Omar's Journal
#7.
Photo: yelp
#8.
Photo: Dvees
#9.
Photo:
#10.
Photo: Lipstick alley
Which ever way you choose to have serve your Jollof Rice, jerk chicken will also be a good combo. However, it's important to ask you guest if they like spicy meals before choosing this option.