There is apart of a wedding you dare not ignore after the bride's dress, the couple's first dance or kiss is definitely the wedding cake!
In Nigerian wedding culture, we believe the act of cutting the cake solidifies the union between the couple, as a display of affection is executed when the groom feeds the bride and the bride feeds the groom. This act symbolizes the beginning of a new journey for them being ONE!
Traditionally, the cake symbolizes a number of things, from the colour on the outside layer down to the mixture within. Topics of wealth, good fortune, fertility and purity are all but a few in the long list of requirements a couple considers before making a final decision on what cake to choose.
Here we have some beautiful wedding cakes that will make you wanna get married fast, like tomorrow;
Cynthia & Ebuka Obi-Uchendu
Most wedding cakes vary from 2 to 7 tiers in size, with layers that may differ in width – but the bigger the bottom base, the better!
Tola and Dele's wedding
 Ewemade of Shakara Couture and Bode 
What happens to the wedding cake after the wedding? It is but a mystery as to what exactly happens to the cake after all this effort. Many couples freeze the cake and share a slice on their 1st anniversary, others share it on the day, while some leave it as a decor piece during the reception, then divvy it up among the bride and groom's family after.
Here are Top 8 Cake Trends in 2016
#1. Anuli and Ifeanyi. white or ivory with gold detail, this cake was made by Santis Cake Creation, it's a perfect mix of traditional wedding cake glam.
Megan and Ekene's wedding in Lagos.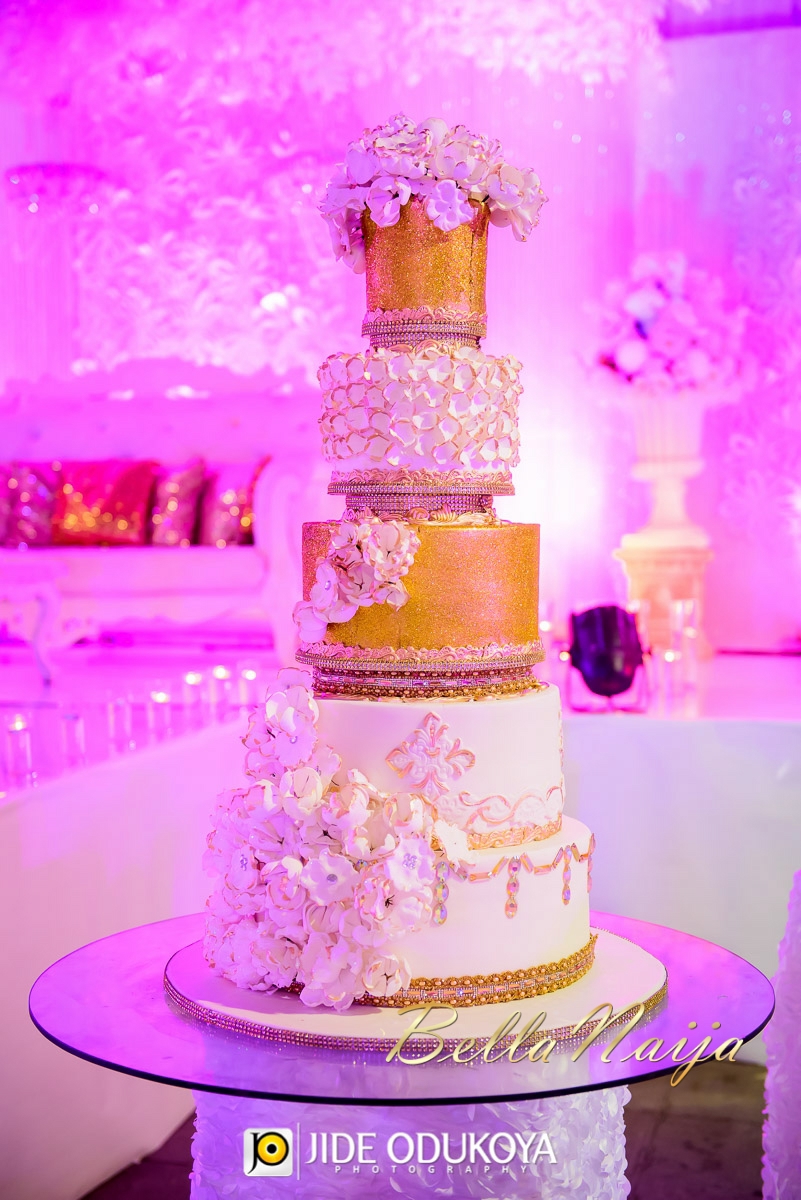 #2. Maggie and Lionel. Personalized cake toppers or fondant figures are a big hit!
#3. Couples names/initials. Just like the cake above, with the couple's initials, many opt to have their names or initials on their cake. Here's a white cake with ombre hearts, at the 1st ever Bliss Wedding Experience by Mövenpick Ambassador Hotel.
#4. Traditional-inspired cakes. Usually for the engagement/traditional wedding, the cakes have elements like chests, coral beads, palm wine gourds or figures of the bride and groom in their traditional wear.
#5. Dami and Ayo's  ATL wedding.
Ruby and Dipo. The extended round tier design, ascending in size this stunning 9-tier artwork.
#6. Colour coordinated or two-toned
#7. Petra and Emmanuel; They chose Squared or a replica of a gift box/package at their wedding
#8. Tolu and Gbenga 
Via: Bella naija Wedding
Which are you favourites?