These 10 Funny Comedians Will Crack Your Ribs Anytime
The Nigerian comedians are not only funny, they also do their business in style. When you are having a hard day, spending your time with their jokes will definitely lighten up your day. No dull moments can be recorded with their rib-cracking jokes.
These comedians may look funny and unserious sometimes, however, they are smiling to the bank as a result of their jokes and business-oriented skills. Contained in this post is a list of 10 comedians whose jokes will definitely crack your ribs anytime you listen to them. We'll look at their assets, the money they charge and their brands. Enjoy!
1. Alibaba
His real name is Atunyota Alleluya Akporobomerere. He was born on the 24th of June, 1965 and has over 30 years of performing on stage and serving as the host of most of the events of former Nigeria's Presidents. His Lekki mansion worth more than 300 million naira. He is a motivational speaker and a professional comedian that is often hired by big brands and political figures in the country. He is estimated to worth about 3 billion naira and earns about 400 million naira per annum.
2. Basketmouth
Bright Okpocha (known by the stage name Basketmouth) was born on the 14th of September, 1978 in Lagos. He is a very funny comedian and actor. He is associated with many companies and has signed different endorsement contracts in the last 6 years. He has been active in the comedy industry since 2000. He has brand deals with Amstel Malta, Globacom Limited amongst others. He has been consistent ever since he came to limelight with shows held in South Africa, London and America.
Basketmouth worth about 2 billion naira and earns about 350 million naira annually.
3. I Go Dye
I Go Dye (real name is Francis Agoda) was born on the 4th of April, 1979. He hails from Delta state, Nigeria. He has organized different shows such as "Igodye Standing" across the globe and has been active in the industry since 1991. His introduction into the night of A Thousand Laughs coupled with his performances earned him a place in the Nigeria comedy industry.
He is a United Nations millennium Developmental Goal Ambassador and also the C.E.O of Revamp Construction Company. His worth is over 2 billion naira and earns about 500 million naira annually. He is presently constructing a bottle water company; Franstel natural Bottle Water.
4. Julius Agwu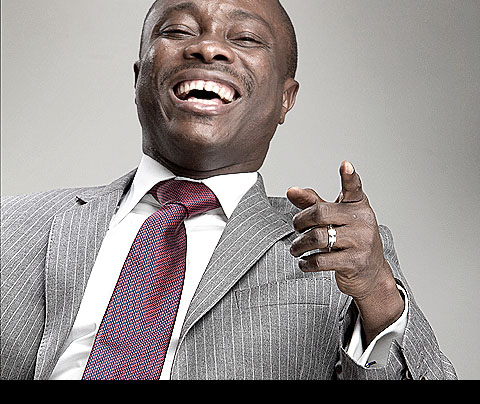 Julius Agwu is one of my favorite Nigerian comedians with a good sense of dressing. He made more than 20 million naira during the launch of his book when he clocked 40. Apart from being a comedian, he has more political affiliates than any comedian. He also has properties scattered all over the country.
He has been active in the industry for over a decade and organizes two major events: Crack Your Ribs and Laugh for Christ Sake. He is the C.E.O. of Real Laff Entertainment Company (an event management firm) and charges between 2 to 3 million per event. He worth about 1.5 billion naira and 350 million naira per annum.
5. AY
Ayodeji Richard Makun, popularly called AY, is a multi-award winning Nigerian comedian and actor. He's also a writer, director and MC. He hails from Ondo state and hosts the A.Y live shows and A.Y comedy skits. His rise in the industry is faster than expected and charges between 1 and 2 million naira per event. He makes about 280 million naira annually and worth about 800 million naira. He has won several awards to recognize his contribution in the Nigerian comedy industry.
6. Gbenga Adeyinka
Gbenga Adeyinka is a graduate of English from the University of Lagos. He is the first Nigerian stand-up comedian to have worked in Ghana. He has anchored the Ghana music Award twice and performed at more than 12 shows in Ghana where he has a huge fan base.
Currently, he anchors more events than any other comedian in the country. He is the politicians' top choice. He owns the Laffmattaz show which is always a sold out and has over 5000 people in attendance yearly. Ggenga Adeyinka is work over 1 billion naira.
7. Okey Bakassi
Okechukwu Anthony Oyegbule (Okey Bakassi) is a Nigerian comedian, movie actor and an entertainer. He dabbled into politics and many sectors of human life. He is in charge of upscale events and once served as Senior Special Assistant on entertainment in Imo state. He owns mansions in Imo state and Canada. He is worth over 750 million naira.
8. Tee-A
Tunde Adewale, a.k.a. Tee A is a Nigerian comedian and a gifted wedding MC. He has made his mark in the Nigerian comedy industry and also in restaurant business. He started his comedy business journey while in the JSS class. He anchors a number of heightened events apart from his private businesses. He is worth Over 400 million Naira
9. Bovi
Bovi Ugboma was born on the 25th of September, 1979. He hails from delta state, Nigeria. He is a graduate of delta State University, Abraka and has been active in the comedy industry since 2007. Apart from being a comedian, he's also a director, producer, actor and writer. He has organized comedy concerts like "Man On Fire" across the globe. He has made lots of money from events he has anchored coupled with numerous adverts and tours. He is also a Globacom Ambassador. He is work Over 6oo million naira.
10. Akpororo
Jephta Bowoto (a.k.a. Akpororo) is a Nigerian comedian and singer. He is an Ilaje-Warri Boy. He recorded a milestone in his comedy career when he staged his Comedy and Music Concert tagged Akpororo Vs. Akpororo at the Shell hall of Muson Center, Lagos. He is energetic, crazy, ingenious and hilarious. He has been nominate for several awards and has won many. You're not wrong if you refer to him as the hottest kid in the comedy scene right now. The is worth over 100 million naira.